Here at Balanced Behaviors we have a philosophy of "harmony" with our dogs. Every dog is different and requires a tailored approach to their training; whether it's basic obedience or behavioral rehabilitation we can help.
We are not here to create a robot dog; our focus is teaching our dogs boundaries, obedience and respect through: relationship building, engagement, marker training (also known as clicker training), a pack structure mentality, socialization, and in-house manners.
One of the most important aspects of our training method is aiding owners in understanding how to effectively communicate with their dogs. This builds a confident and engaged relationship between dog and human. Training owners is equally as important as training their dogs. In order for our training methodology to be effective in the long-term, it is crucial for owners to maintain balanced behaviors through continued training and maintenance.
Meet the Trainers & their pups
Amber Lequia (Co-owner/ tRAINER)
I moved to Boise in 2012 from Green Bay, Wi. Go Pack Go! It wasn't soon after I moved to Boise that I realized how dog friendly this beautiful place is! Growing up we only had one dog, a mix breed named Charlie Bear. Charlie was not trained, and basically ran our lives. We only taught him basic commands like sit, down, and roll over. He was not well behaved, not well socialized, and had zero leash skills. I had no idea the potential that dogs had when trained.
When I arrived in Boise it was clear to me that I needed a hiking companion, and friend to keep me busy. It was very apparent from all the dogs I'd seen in the foothills and on the Greenbelt that training was definitely something that I was going to need to invest my time in. I adopted Remedy at 8 weeks old from a customer of mine when I was a Supervisor at Starbucks. She is a beautiful yet very stubborn Golden Retriever Mix. From the start I knew she was going to be a little difficult. She was horrible on a leash, barked at everything, and was incredibly stubborn and independent. I began my research online and found some helpful tips. Add structure, create boundaries, teach her useful skills, and most importantly be consistent. Soon after I started my research I noticed my relationship with Remedy was improving and she was developing some great skills. In 2016 she won best tricks at See Spot Walk, and in 2017 gained her title as a Canine Good Citizen.
I met Tessa when she moved back to Boise from California in 2016, and transferred to my store at Starbucks. All we would talk about were our dogs, our journey with them, and training. In 2017 she got hired by a local dog training company and insisted that I come with her. January of 2018 we decided to leave and start our company Balanced Behaviors as Boise's Foothill Dog Trainers.
TESSA KINDRED (CO-OWNER/TRAINER)
Born and raised in Boise Idaho. I always had a dog in my life. Once I moved out on my own I got Yeti the Great Pyrenees. I began training him through Leerburg.com dvd's and found the process fascinating. It still didn't get me started in dog training. Not until I met Stranger.
In 2011 we moved to Central California. While I was living there I found a rescue dog who stole my heart. He was fear aggressive and angry at times, but he was also the sweetest creature on earth. You could see how badly he wanted to find someone to trust. He frightened me, but I am sure I unintentionally frightened him more.
So I begun studying and researching how to manage and help a fear reactive/aggressive dog. I didn't believe he would ever be a social creature. But I wanted to be able to walk him down the street safely, and have guests over to my house with out fear of being bitten.
Once it was time to move back to Boise, I found it intimidating to attempt to hike with him or take him in public. But my fear was just feeding his. So I worked on changing the structure of our relationship.
Structure, boundaries, clear communication & expectations were some of the keys to Stranger's rehabilitation (it sounds simple when I put it like that, but it was far from easy). I trained him to an ecollar to aid in my off leash control with him, and things just started to fall into place. It was still hard work and the progress was slow and shaky at times, but I began to see his confidence improve (which also improved my confidence), his greeting to other dogs became calmer, his acceptance of people begun to open up his horizons. He began to blossom into the sweet and lovable dog I see today. He even passed his Canine Good Citizen test in 2017!
After some time training him, I got a job at a local dog training company. I learned so much from my time with them, I began to hone my skills and continue to grow with the industry as it changes and evolves. Once we left, Amber and I had a vision for a dog training company that removed the training room environment and started to work with people and their dogs in real world situations. And that's how Balanced Behaviors was born.
The not so silent leader, don't be fooled she has many tricks up her sleeves.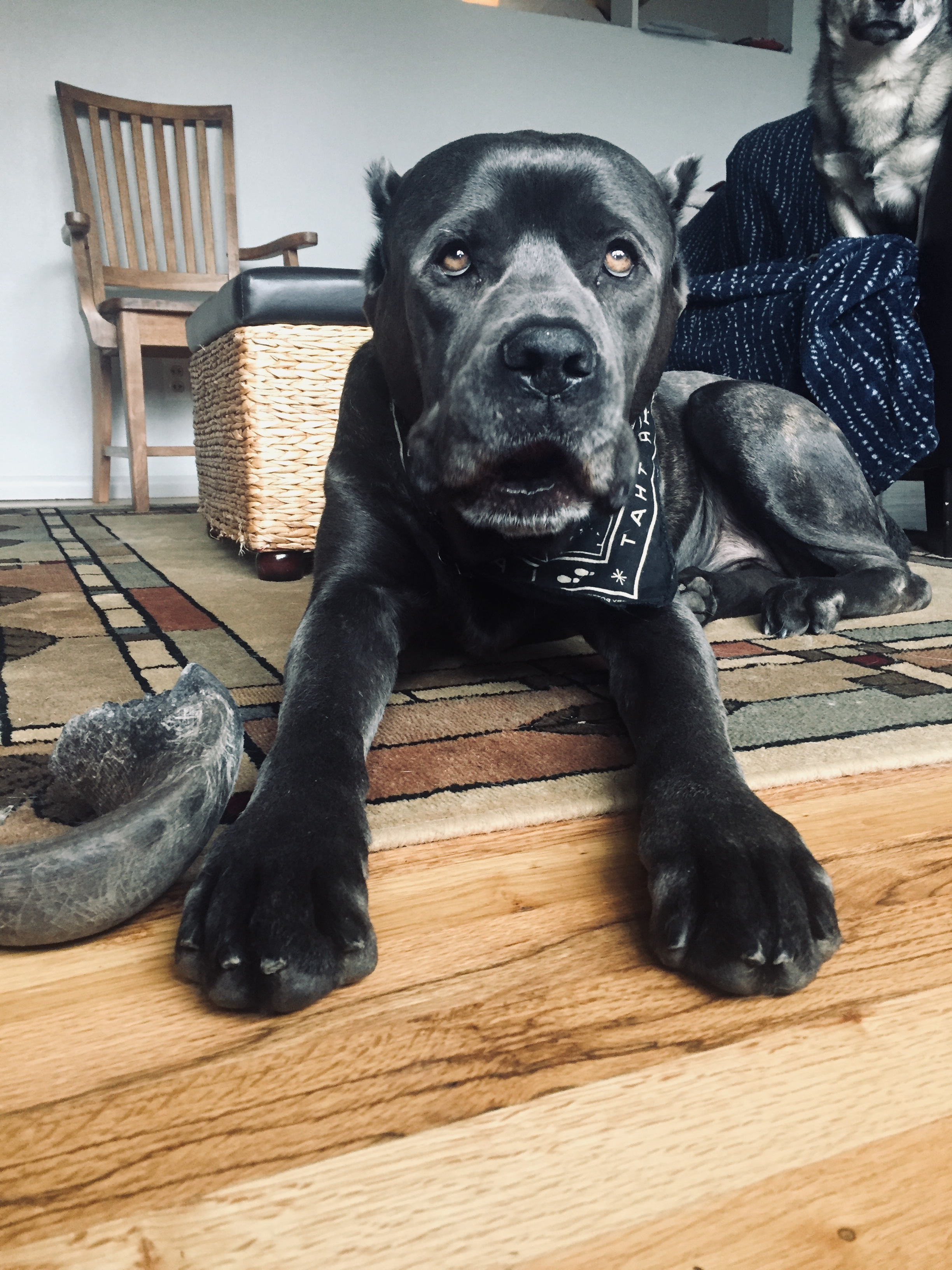 Stranger (VICE PRESIDENT)
He prefers food & belly rubs, but if he has to, he will return your phone call.
Kai (Director of Operations)
He is a stickler for the rules.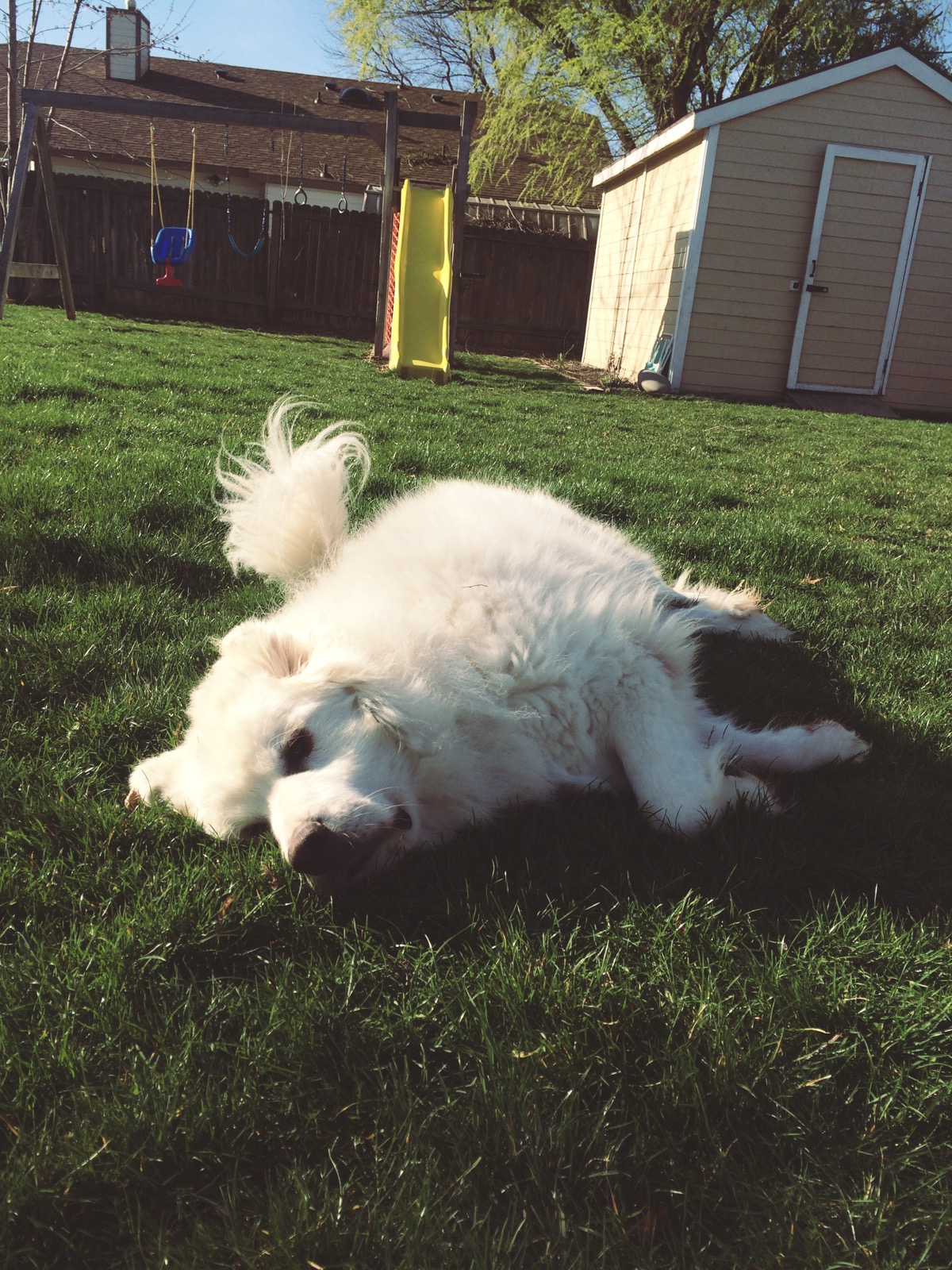 This sleeping beast keeps the puppies in check.
Smart, cute, & ready to learn. We love Bo the intern.